Mutual Fund Replication–Death of Closet Indexers?

(Last Updated On: December 23, 2014)
Want to identify how to replicate an expensive, tax-inefficient mutual fund with ETFs?
Interactive Brokers has a pretty cool tool that does exactly that!
Check out their "Mutual Fund Replicator."
In the example below, the IB system examines the Janus Perkins Small Cap Value Fund, highlighting that it can be synthetically replicated with a portfolio consisting of 58% SCHB and 42% PSCF.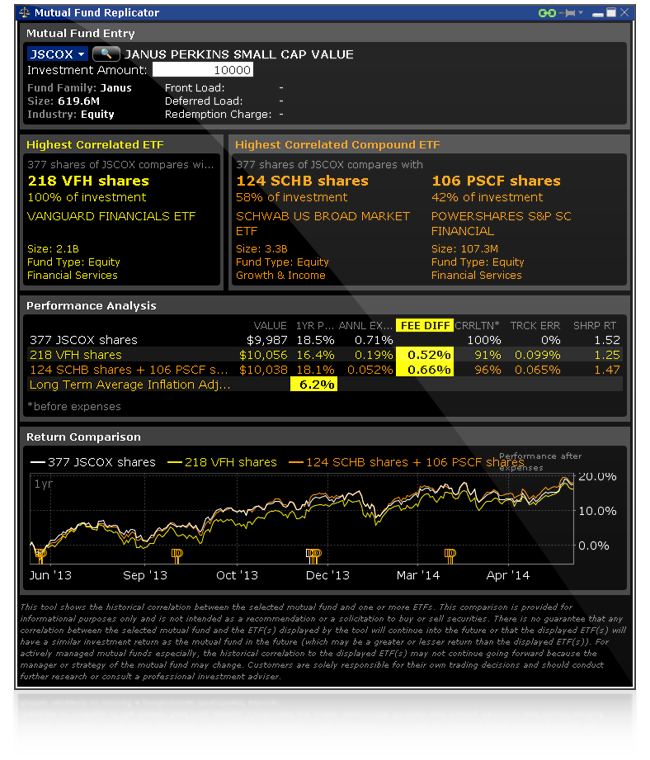 We went ahead and tried the system out on a random large cap value fund: The Fidelity Value Discovery Fund (FVDVX).
FVDVX is a 900mm large cap value fund with 92 holdings spread across mega-cap holdings ($10B and higher).
The fees aren't ridiculous (80bps), but the fund can be replicated with a high degree of precision by simply investing 91% in Vanguard's Value ETF and 9% in the iShares Residential Real Estate ETF.
---
Note: This site provides NO information on our value investing ETFs or our momentum investing ETFs. Please refer to this site.
---
Join thousands of other readers and subscribe to our blog.
---
Please remember that past performance is not an indicator of future results. Please read our full disclosures. The views and opinions expressed herein are those of the author and do not necessarily reflect the views of Alpha Architect, its affiliates or its employees. This material has been provided to you solely for information and educational purposes and does not constitute an offer or solicitation of an offer or any advice or recommendation to purchase any securities or other financial instruments and may not be construed as such. The factual information set forth herein has been obtained or derived from sources believed by the author and Alpha Architect to be reliable but it is not necessarily all-inclusive and is not guaranteed as to its accuracy and is not to be regarded as a representation or warranty, express or implied, as to the information's accuracy or completeness, nor should the attached information serve as the basis of any investment decision. No part of this material may be reproduced in any form, or referred to in any other publication, without express written permission from Alpha Architect.
---
Definitions of common statistics used in our analysis are available here (towards the bottom)